Communicate, collaborate, and manage your projects in a single platform
Ever feel like managing your work is more work than, say, your actual work?
You're using an app to chat with your team, email for your clients, and a separate platform to manage tasks and to-dos. Oh, and don't forget to track your time (in yet another app)!
How about a tool that keeps everything—and everyone—in one place?
Introducing NiftyPM.
Designed to keep everyone on the same page (literally), Nifty lets you view all your work in one simple, interactive dashboard, from project files to deadlines.
Projects thrive when they're built around Nifty's Milestones, which break down into small, action-driven tasks that bring you closer to your project goals.
With Nifty's clean interface, you can track task assignments, activities, and time logs across projects.
Filter tasks by due dates, task assignees, and Milestones to see exactly where you and your team stand with your project progress. No more trying to guess who's doing what.
You can also automate your progress tracking based on task completion to provide real-time project reporting and status updates.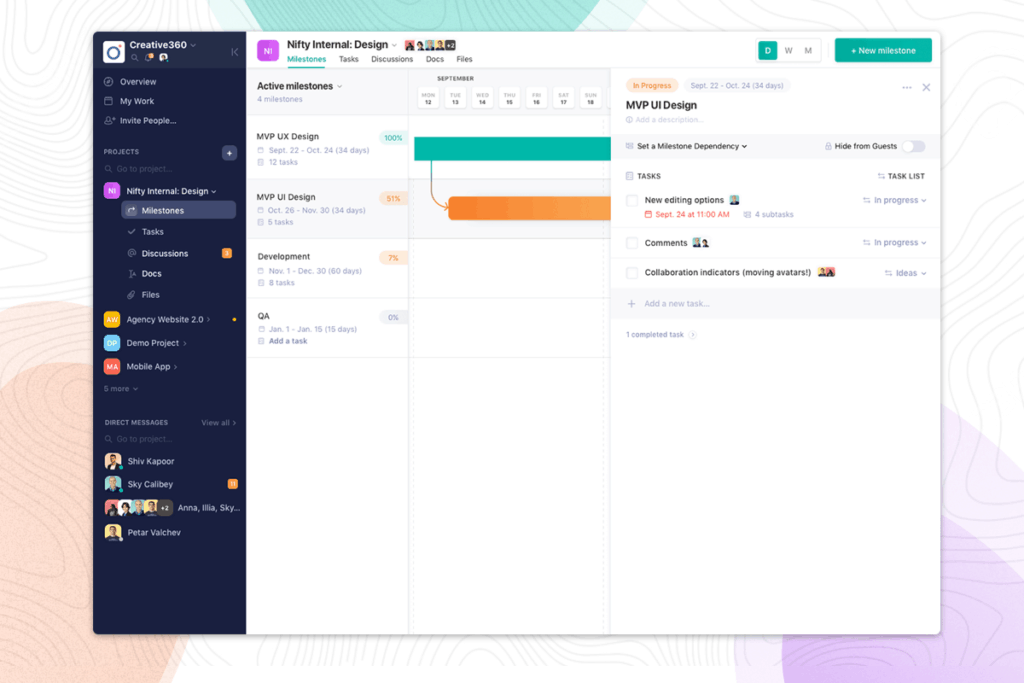 Collaboration and communication come together beautifully in Nifty's project Discussions.
Connect with your team and your clients with real-time messaging to share ideas, collect feedback, and turn talk into action by converting any message into a task.
Create group chats or slide into a team member's DMs for 1:1 discussions.
Plus, Nifty integrates with Zoom to seamlessly escalate team chats to an audio or video meeting.
Every superhero team needs a hub. Nifty gives your team a place to work together anywhere, at any time.
Create shared documents and notes, and invite anyone to view, comment or edit.
You can also access and share files from your computer, Dropbox, or integrate with Google Drive.
Need to find a file quickly? Go to your profile and view all file uploads across projects and discussions.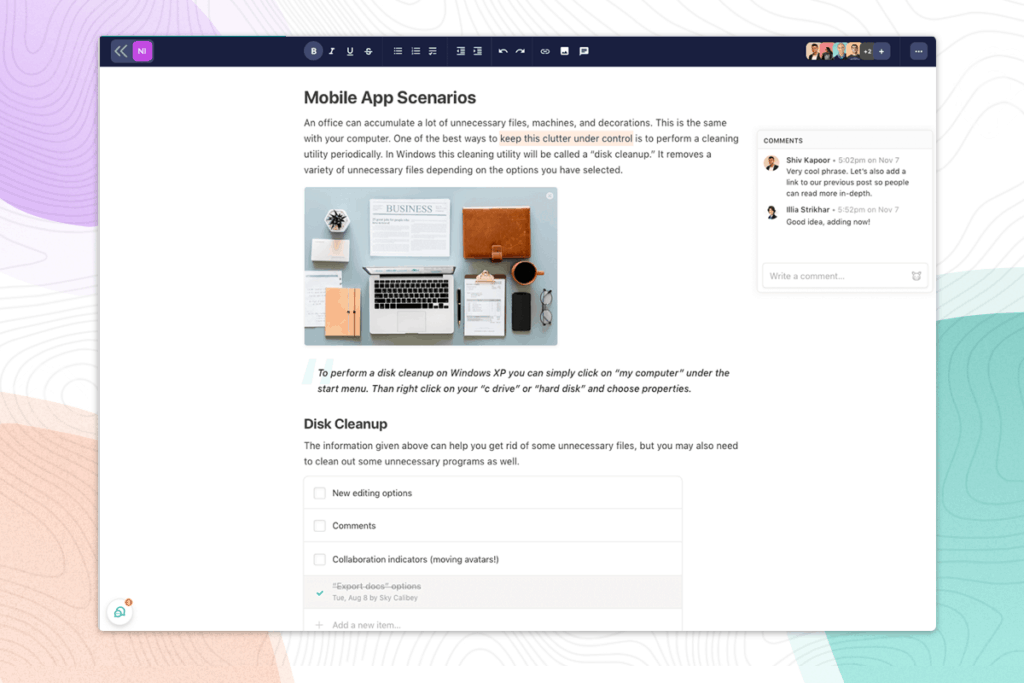 When it comes to managing multiple projects (and people), staying organized is key.
Nifty shines by keeping all important insights right where you can see them—the Project Home.
Stay on top of your progress with a bird's eye view of discussions, milestones, tasks and whatever else you want to see. You can also track how much time you've spent on a project.
The dashboard is fully customizable to each team member. Tailor it to fit your work)flow, prioritize insights, and spend less time searching.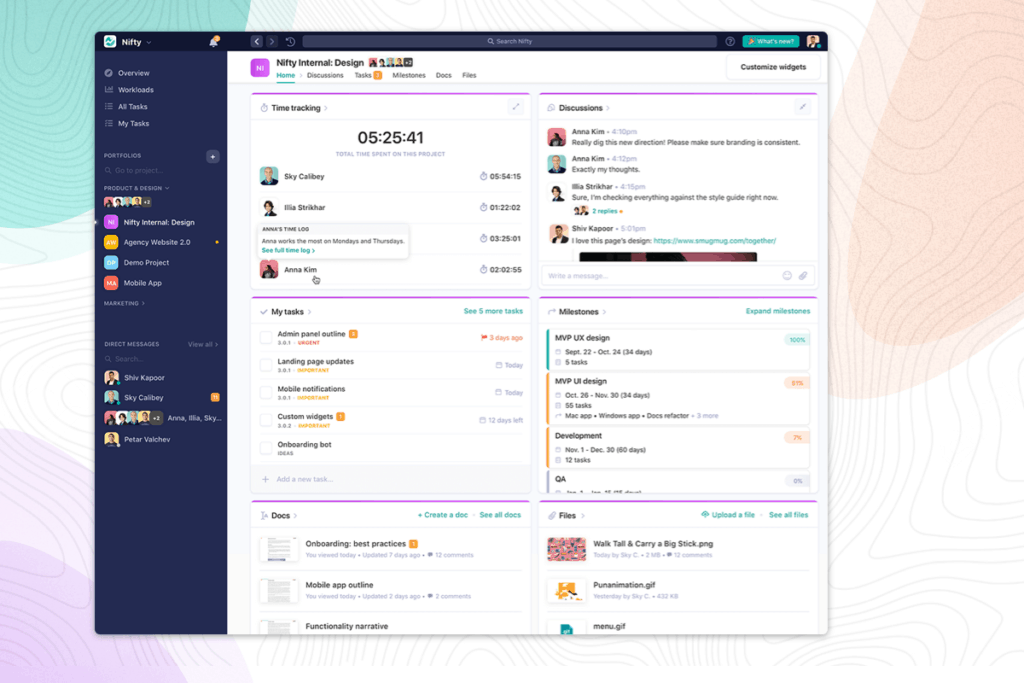 Nifty's Kanban board gives you full flexibility to organize, collaborate, and prioritize work while managing deadlines and feedback.
Whether you're into a Kanban style or prefer a simple, clean List view, Nifty makes it easy to swiftly move tasks from "To Do" to "Complete."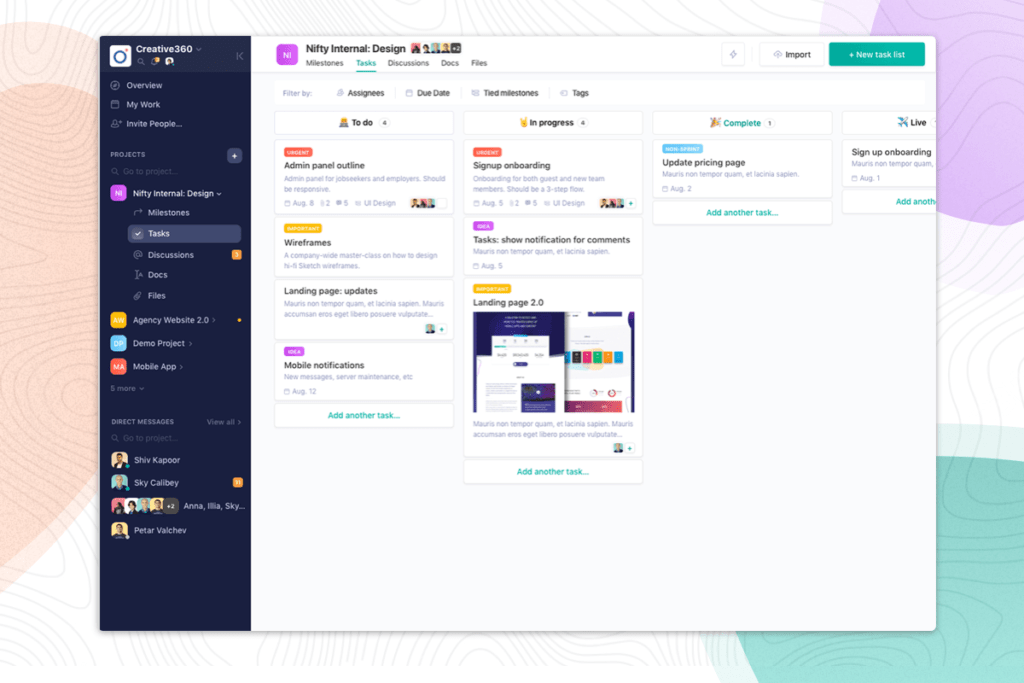 Your projects could use some more direction and less back-and-forth between team members.
If you need to have constant status update meetings on Zoom, you need to get Nifty.
Dive into an all-in-one platform that supports team collaboration, communication, and automation.
Features Included in All Plans