Pagemaker Lifetime Deal
Grow your customer base with mobile-first landing pages—no coding required
Introduction to Pagemaker
Looking to build high converting mobile-first landing pages for your business.
While I'm writing this review Pagemaker is on a lifetime deal you can get the deal here.
Building landing pages need creativity and high converting designs.
In this article, I will show you how to create landing pages using Pagemaker.
Pagemaker is founded by a creative agency called 7Span and LandingPageDude. They have years of experience building websites and landing pages for clients. They have used all their experience and build Pagemaker so everyone can build landing pages in minutes.
If you are tech-savvy this is how Pagemaker is built. They used Tailwind CSS, Vue.js and Laravel which is powered by AWS and Digital Ocean servers.
I typically avoid landing page builders because I build everything on WordPress using Elementor.
For someone like me who uses Elementor to build most of my websites or landing pages, I wonder if Pagemaker can replace it.
In this article, I'm going to find out if Pagemaker can really replace my other tools.
This is a SaaS product and we need to use whatever modules, elements and templates they provide in their dashboard we lose some freedom here compared to WordPress because of the limitation on the platform.
Let's start creating a landing page to know about Pagemaker.
The dashboard is a simple list view with all the campaigns (landing pages) you create. On the left side menu, you can find Landing Pages, Amazon Pages, Domains, Redeemers and Integrations along with Account, Roadmap and update at the bottom of the menu.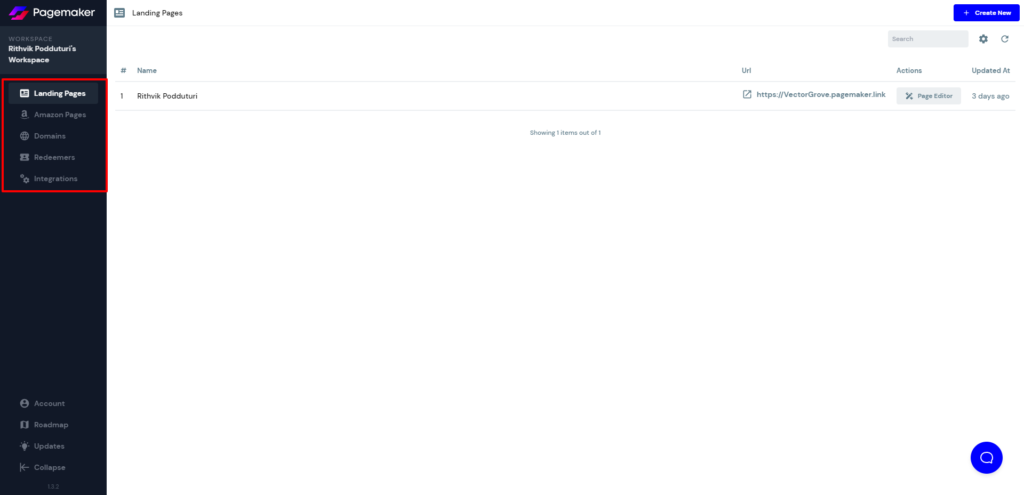 Creating a new campaign or page is easy. Click on create new button on the top right corner. Name the project and add a description of the project.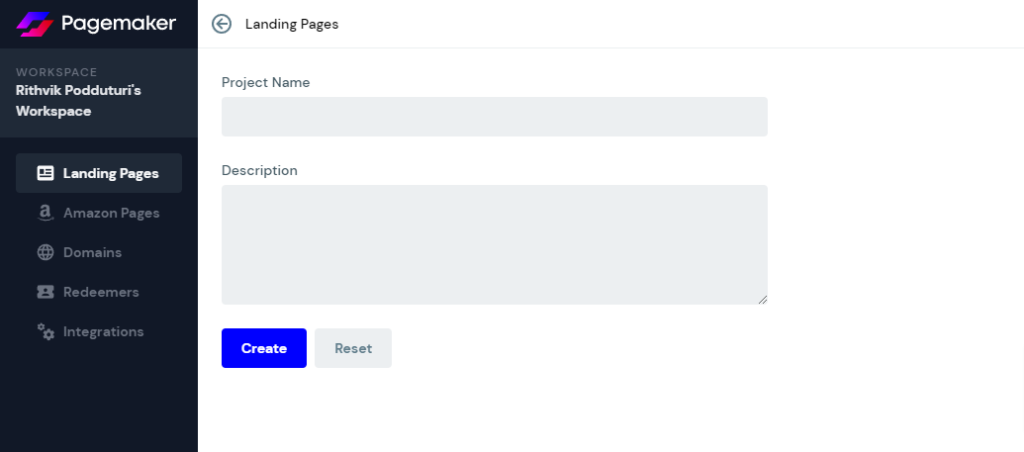 This redirects you to the editor which shows up a blank page with options to choose a template or add modules to design your landing page. They have 49 templates while I write this review. Pagemaker adds a new template every week so you don't feel anything missing.
Select a template and you are ready to edit your landing page.
Pagemaker is a mobile-first landing page creator which is evident because they show the mobile size screen on the default editor. The page is fully responsive to all screen sizes from mobile to desktop.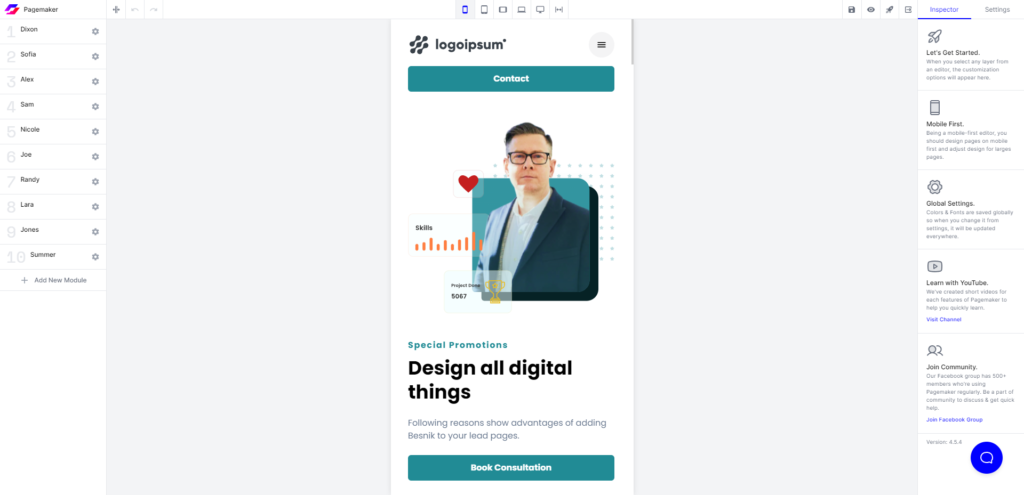 All these designs are tried and tested with 100's of clients and usecases which gives us an edge over other designs. All one needs to do is edit the content and images on the page.
Double click on any text to edit the content. They also have an AI content generator on the roadmap which helps you write optimized SEO friendly content which just a few clicks.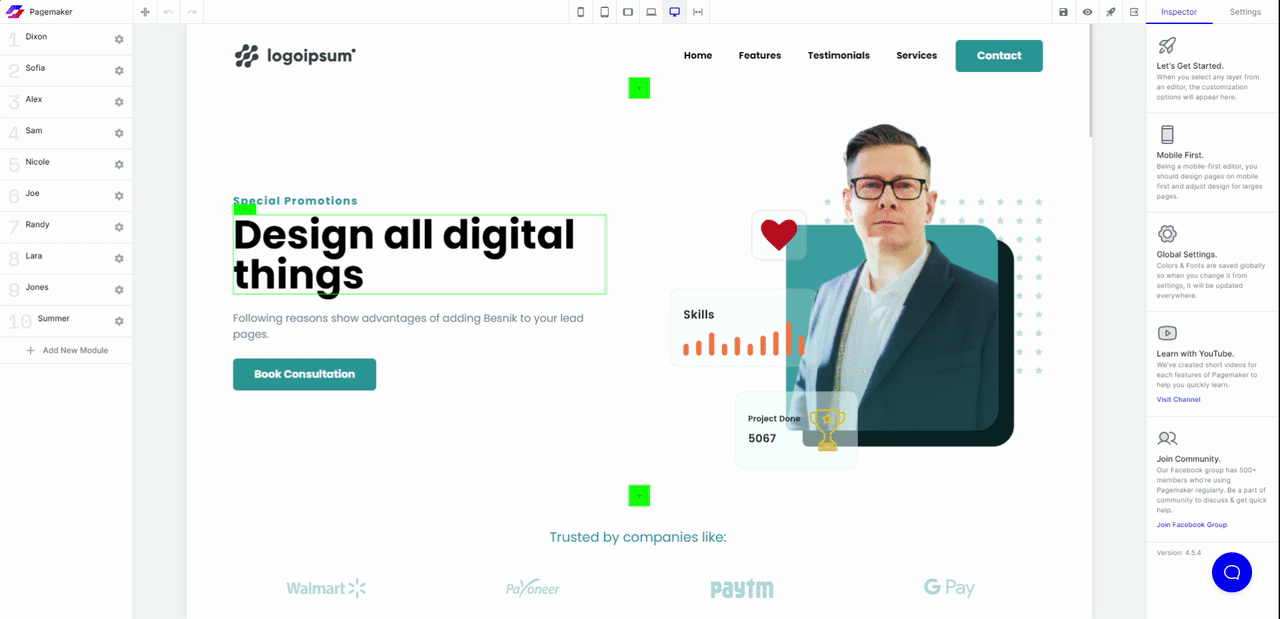 They also have some drawbacks which make the editor less flexible and sometimes difficult to get the desired design for your page. You can remove any module on the page and add a new one but you cannot delete the elements in the module.
I'm hoping they will add that in the upcoming weeks to make the editor more flexible.
You can also add modules to the existing page by clicking on the green plus button between the modules to add them in the required position.
There are 305 modules that allow you to design your page from scratch if you feel their templates doesn't fit your use case or design.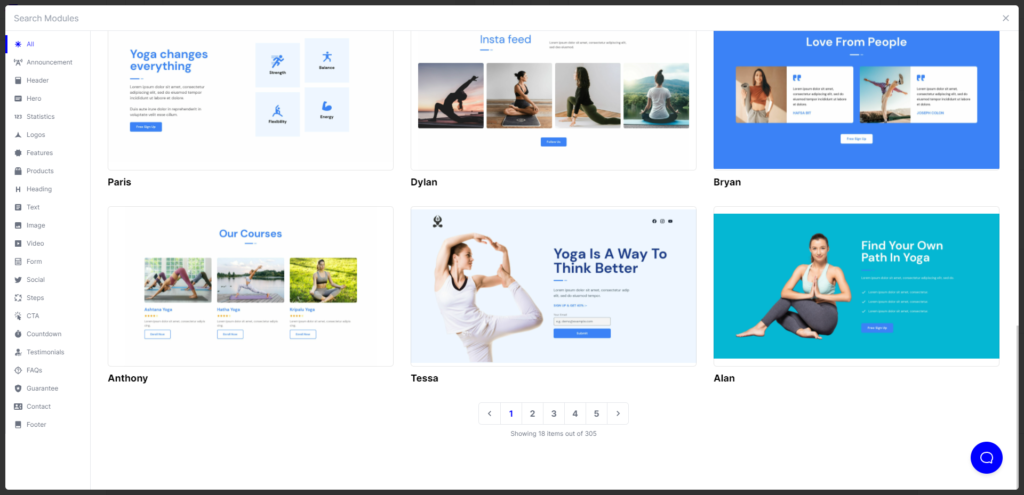 You can also add your custom code HTML,CSS and Javascript. This gives some sort of flexibility to add designs from different template marketplaces which support Tailwind CSS.
There is also an option to save modules or create global modules which can be used in other landing pages.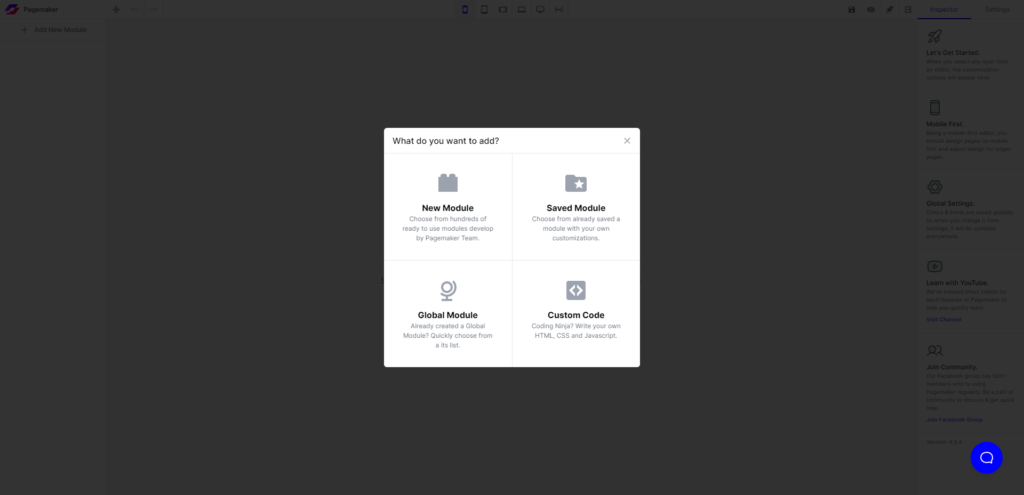 In the settings, you can find additional settings to change the colours, fonts, write custom CSS & javascript, add google analytics, Facebook pixel and you can also change the template anytime.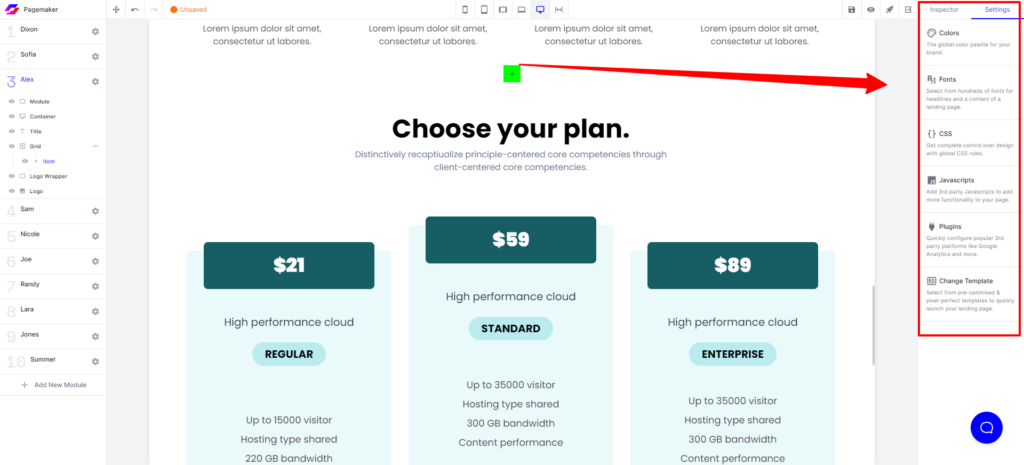 Pagemaker Lifetime Deal
Grow your customer base with mobile-first landing pages—no coding required
Hit publish button and your page is live. After going back to the dashboard you can see additional settings and analytics for the landing page.
You getting analytics of your landing page with metrics like View, Unique Views and Form submissions. In addition to that, you can also see the metrics of the device and the browser used.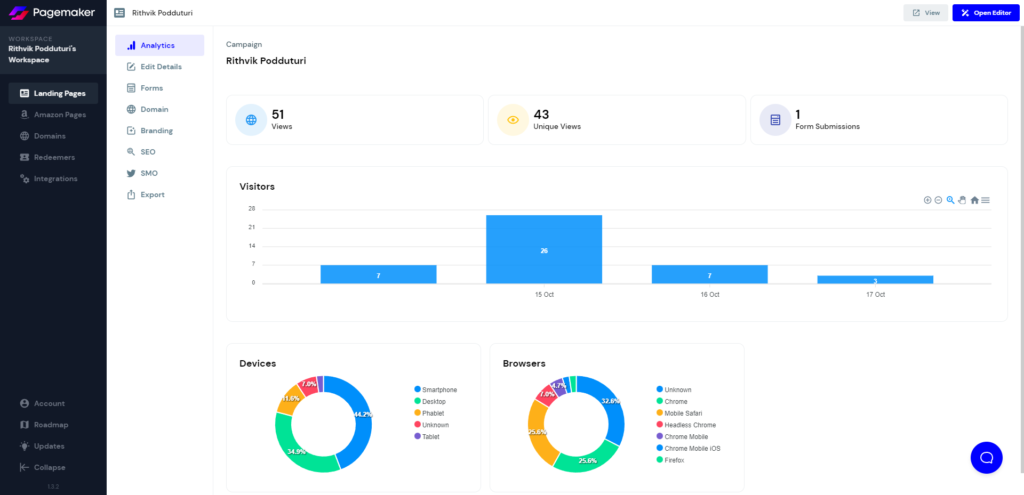 All the form submissions are saved in the dashboard, which can be downloaded in excel format by clicking on the download button on the top right corner.
In the domain setting, you can add a custom domain or use Pagemaker link for your landing pages.
If you use a custom domain you need to add a new domain/sub-domain for every landing page. There is no option to add multiple pages under one domain which is also on the roadmap which is set to release in early 2022.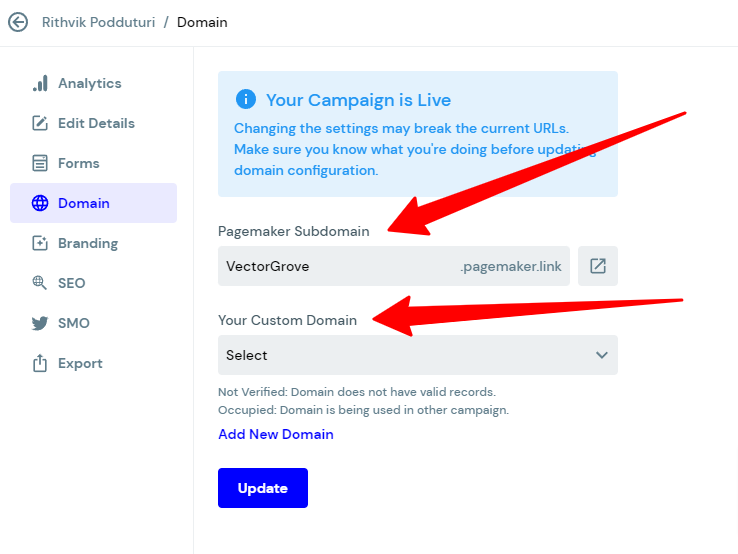 Under the branding settings, you can add a favicon. That is pretty much it in the branding option.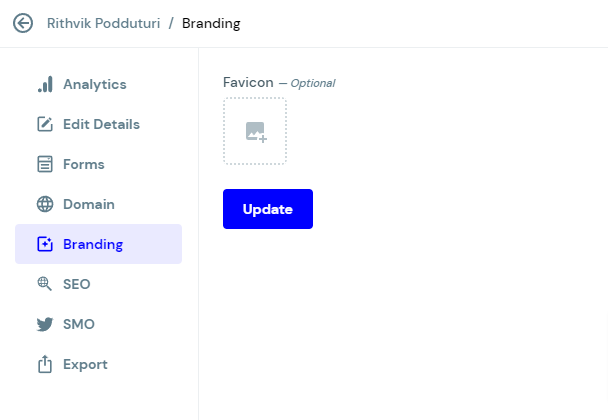 Under the SEO settings, you can add Page Title, Description and related keywords for the landing page. You can see the google preview on the right side of the page.

You can add custom image for social sharing. This shows up when you share the image on any social media platform.
You can also export the landing page and host it on your self-hosted services.
If you are planning to use Pagemaker for Amazon products they have an option to fetch the details of the product from Amazon using the product link.
You need to paste the product link after you click on create button.
Example of Amazon link https://www.amazon.in/Redmi-Activ-Coral-Green-Storage/dp/B09GFMFTHS/
Make sure the link is in the same format to fetch the data. Paste the link and continue it will take few seconds to fetch the data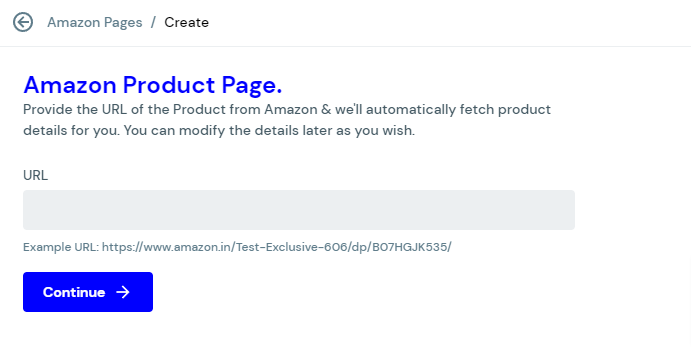 All the data is fetched from Amazon including Country, Product Name, Images, Description, Listing price, Discount and Sale price.
You also have the option to upload coupon codes. You get the details of the redeemers.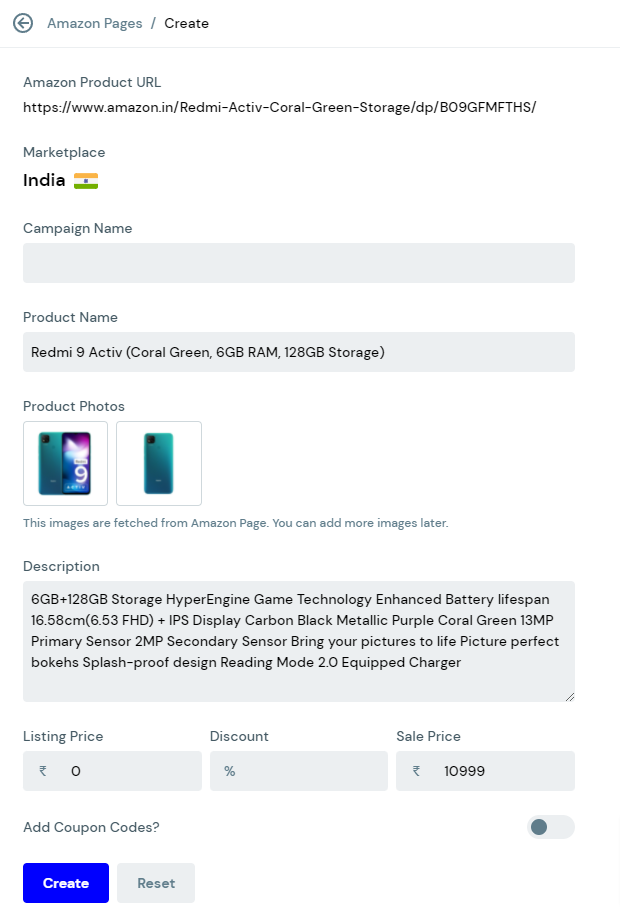 Create and select a template for your landing.
Will Pagemaker build the landing page using these details?
No, not yet but it helps you select the Product Title, Description, Features, Pricing and Images inside the template. You don't need to copy-paste the details of the product every time you need to use them.
Click on the image you need to change on the landing page, click on edit you can find the images fetched from your product link.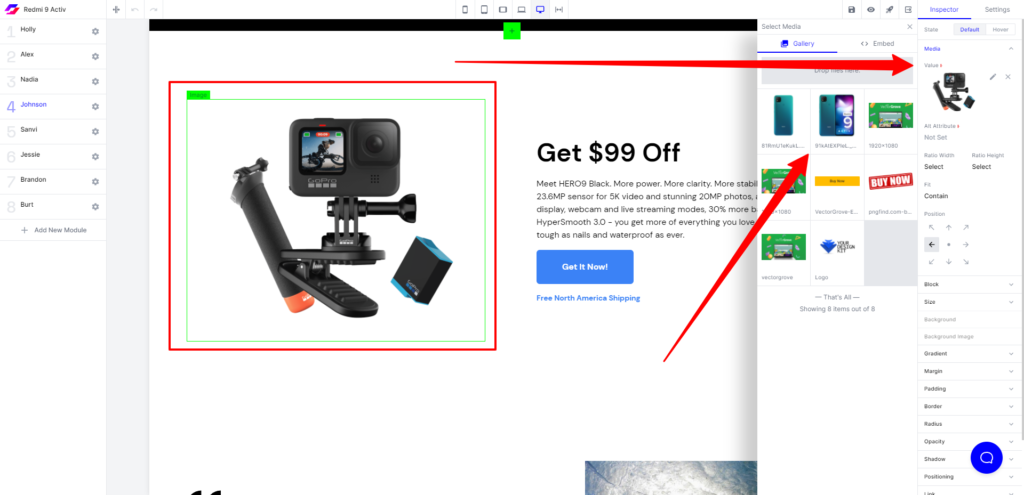 Adding text from the product details is easy. Click on any text you want to edit in the setting panel select the data in the content field to display. This can be done to any text or image on the page. This helps you build the landing page even quicker.
Pagemaker integrates with most of the automation platforms so don't feel missing any important integrations at least they add more native integrations.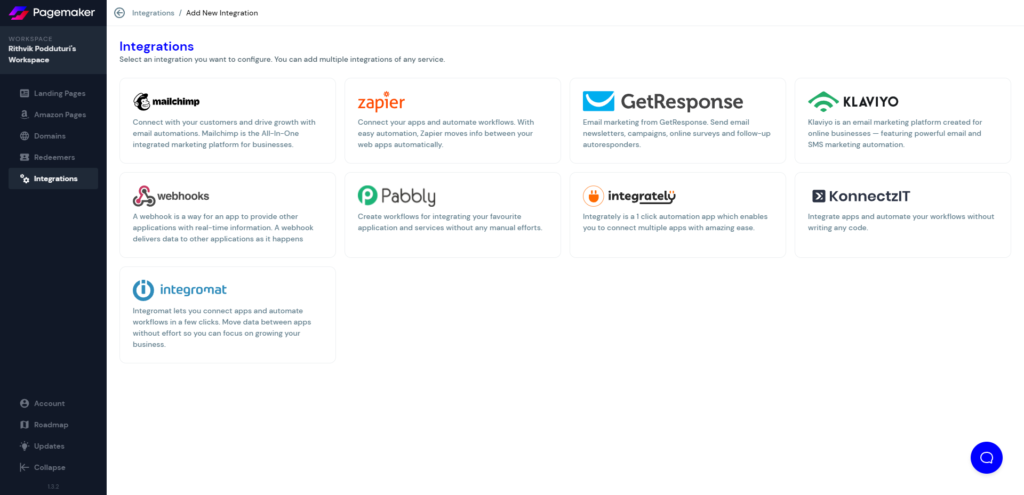 You can find the roadmap here you can vote or suggest a new feature you feel missing on the platform.
Conclusion:
Pagemaker is a pretty decent landing page builder which got a lot of scope. They have beautiful templates and modules which can help you build landing pages for any niche or product. I wish the editor is more flexible but it is good enough to build proper landing pages. Setting up landing pages is now easier with Pagemaker now. It is definitely worth the money for the features they offer which comes with unlimited traffic.
Pagemaker Lifetime Deal
Grow your customer base with mobile-first landing pages—no coding required
Disclosure: This site contains affiliate links. This means we may make a small commission if you make a purchase.